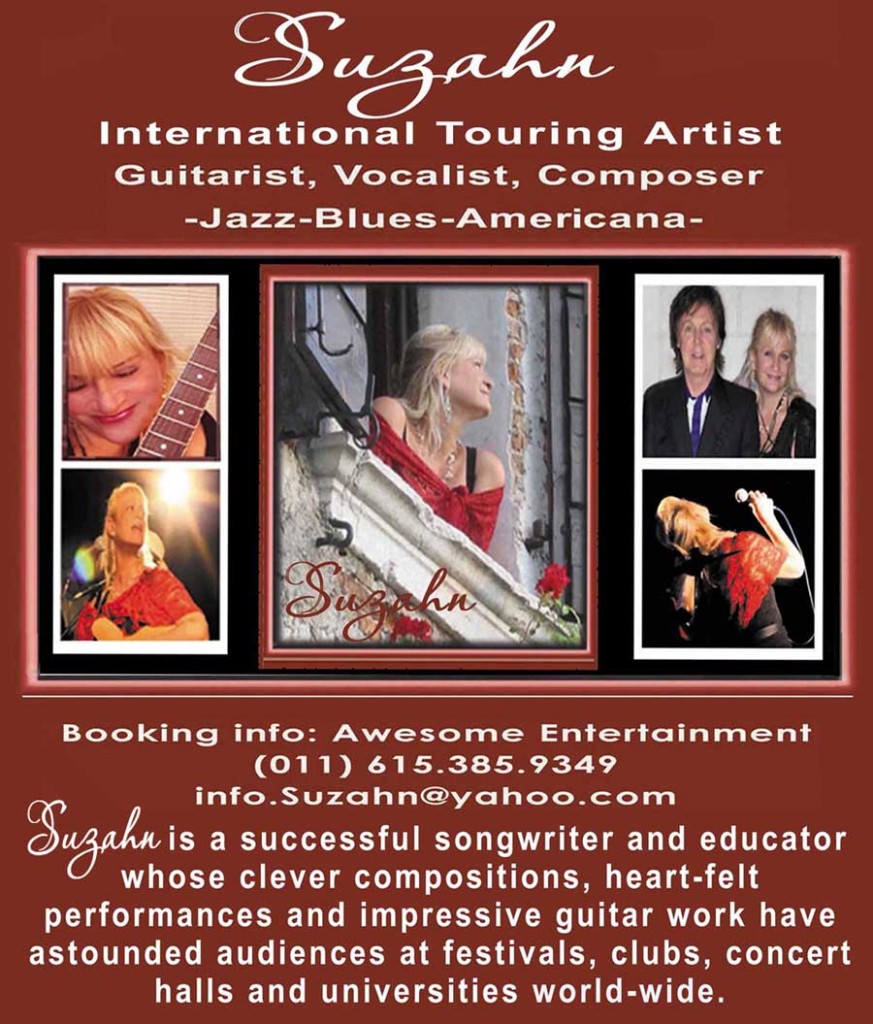 Suzahn has worked in various capacities with notables including:  Vince Gill, Julian and Sean Lennon, Yoko Ono, Pete Seeger, Reba McIntyre, Ashley Judd, Jeff Coffin, Victor & Reggie Wooten, Dick Oatts, Alec Dankworth, Digby Fairweather, Jaco Pastorius, Gloria Steinem, The Honorable Al Gore, Paul McCartney, and many more.
Suzahn has played dozens of festivals across Europe and the US, highlighted by The Copenhagen Jazz Fest, The Marbella Jazz Fest (Spain) and the Birmingham Jazz Fest-UK (5 times). Appearances have included Lincoln Center-NYC, the Blue Note-NYC, and the Soho Pizza Express in London to name a few.
Sir Paul McCartney and The CEO of the Liverpool Institute for the Performing Arts, Mark Featherstone-Witty, presented Suzahn with the "Honored Friend Award" in July of 2014 after the trio co-hosted fundraising events on McCartney's, "Out There" tour in the US, including Bonaroo in Nashville, TN. Suzahn, is a guest instructor at the Institute.
BBC-TV featured Suzahn with Ireland's Fergal Flaherty for a special for Ireland an the UK. She has been a guest on well over 100 radio shows across Europe and the US including the BBC, and NPR stations .
Suzahn co-hosted, producesd and performed on, "The Gospel According to Gatin",  WSM Radio (Home of the Grand Ole Opry, Nashville TN) live from LIPA and broadcast to over 50 million people world wide.
Suzahn represented the Honorable Al Gore in presenting letters of accommodation to leading environmental activists in Paris and Toulouse, France.  The event was sponsored by the American Embassy.
Compositions:  Suzahn has been a Warner-Chapel songwriter for over 15 years and writes for other companies as well.   Suzahn has original songs in over 20 network television shows played in over 40 countries and independent films including Oprah, Desperate Housewives, Disney, ESPN, BET, National Geographic, and Nickelodeon and many more. Suzahn has written and performed on many National jingles in the USA and has 4 songs in the Smithsonian Museum in Washington DC, and 2 songs in the Baseball Hall of Fame.
 Suzahn hailing from New York City, currently lives in Nashville, TN, USA. Suzahn is a veteran engineer and producer and an alumni of BMG, RCA, Gibson Musical Instruments, and MCA Music. Suzahn is a passionate educator teaching privately in Nashville and leading Master Classes and lessons across the globe.
What's Been Said:
"…a bold, fresh and adventurous talent…" La Tribuna, Marbella, Spain
…the consummate performer with astounding talent! Lynn Samuels, XM Satellite Radio. WABC-Radio
 …Suzahns voice clear and strong practically drips with sex appeal. She is the musical equivalent of Viagra." Maryville Times, Nashville, TN
 Suzahn 's music is an elegant entrée into a romantic world of dazzling virtuosity, smoky-smooth vocals, formidable guitar playing, masterful scatting, critically acclaimed originals and unique interpretations of jazz classics. Jazzreview magazine.
 For Booking info call Awesome Entertainment (011) 615.385.9349 or email info.suzahn@yahoo.com